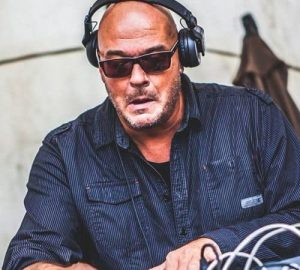 Proudly we present Mark van Dale
In 1981 Mark started working at a pirate radio station called HAVENSTAD RADIO. According to Mark, this is when life really took off. Through the years he travelled from radio station to radio station, including one year on the legendary RADIO CAROLINE-boat. His alias MARK STAM presented the morning show for the Dutch RADIO MONIQUE, this station was broadcasting from the CAROLINE-ship.
During the weekend, Mark played at the BLUE LAGOON venue, a medium sized club in the heart of Holland, Zwijndrecht. Let's face it: Zwijndrecht….who hasn't been there? In 1988 Mark also started working for MIDTOWN RECORDS in Rotterdam. He started off in one of their record shops, working together with colleagues like KOEN GROENEVELD (nowadays known from Klubbheads / Hi_Tack), MICHEL DE HEY and PAUL ELSTAK.
In the early nineties Mark teamed up with ERIK DE KONING (a.k.a Enrico). It were the days of the huge explosion of house music; house conquered the world. The "Dutch" sound in those days was "gabber" or hardcore. Mark and Erik produced a couple of successful tracks like the wonderful "MICHAEL JACKSON IS IN HEAVEN NOW" (their first release ever) and the lovely gabber-track "UTTER UTTER", as KING DALE.
A visit to the very popular "IT"-club in Amsterdam opened Marks eyes. The groovy clubby sound really got hold of him and he decided there and then he would try to make it as a club DJ and producer. He said goodbye to the gabber-sound and started buying club-tracks and nothing but club-tracks. It became almost annoying.
In 1996 he was offered a residency at the new, hot "ASTA MOVEMENT" club in The Hague. He played with DJs like CARL COX, PAUL VAN DYK and JOHN AQUAVIVA, to name a few. In 1997 Mark became label-manager of his own MASSIVE DRIVE RECORDINGS, the label included the international smash-hit "GREECE 2000" by THREE DRIVES ON A VINYL and his own "WATER WAVE" (or "WATERVERVE"), which he produced together with ENRICO, became an international club hit and the track also made it into the highest regions of the Dutch and Belgian Singles Chart.
From that moment on Mark has been playing all around the world, flying from RIGA to LOS ANGELES, from BARCELONA to MIAMI, from TEL AVIV to ARUBA, from KRETA to HAMBURG, ST. PETERSBURG, IBIZA, ZURICH, MOSKOU and LAS VEGAS. Earning lots of frequent flyer miles of course!
Several major record companies asked Mark to compile and mix a compilation-cd. Over the years Mark mixed and compiled two editions of "MASSIVE DRIVES" (released by ARCADE Benelux), "KRITI VIBES", "MEGA MUSIC DANCE EXPERIENCE" and "THE CELEBRATIVE MIX".
Are you ready for some of the aliases Mark used as a producer? Here we go: MULTIDUBBERS, DUB FOUNDATION, LOVE FOUNDATION, SUNBOX, HAGGLE & AMERICA, SUNSET BOULEVARD, BOM SQUAD, COLLINS AVENUE, CLUB ROYALE, WICKED, THE FOUNDATION.
And there's more: Mark and Erik also provided remixes for the following artists:
KANE, ADEVA, 2 BROTHERS ON THE 4th FLOOR, DJ MARCELLO, VENGABOYS, JONESEY, DJ JEAN, RAINBOX, TALES FROM THE CRIB, KLUBBHEADS, PROPER BEATING, HUMAN RESOURCE.
The track "SOMETHING GOING ON" by Mark van Dale featured CB MILTON on vocals. The track made it into the Singles Chart in the Netherlands but also did well in Spain. The leading role of Mark in the magnificent video must have done the trick!
After 30 Years, MARK is still going strong. His own club night at the Amsterdam "ESCAPE" venue on Sunday nights (surprisingly called "SUNDAE") was a big success.